General athletic park
This is the largest athletic park in the City. There is a baseball ground, an athletic field, and a multi-purpose field in the park. There is an official mallet golf course that is used by many people.
There are also a peony garden and sunflower field (cornflowers in spring) in the park and you can enjoy watching flowers and walking around in nature since the park is adjacent to Honda green path.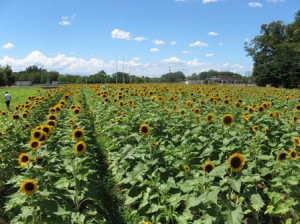 Access
Bus
Tobu Tojo Line/ From the south exit of Asakadai Station
Seibu Bus/ Take a bus bound for the east exit of Higashikurume Station or Niiza office, get off at City Gymnastic Hall Entrance, walk for 10 minutes
Seibu Ikebukuro Line/ From the east exit of Higashikurume Station
Seibu Bus/ Take a bus bound for the south exit of Niiza Station or the south exit of Asakadai Station, get off at City Gymnastic Hall Entrance, walk for 10 minutes
Car
* Parking spaces available
Map

Show a bigger map to see the general athletic park